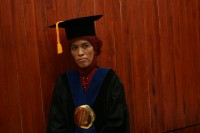 Name : Aulanni'am
Title : Prof. Biochemistry
Degree : Doctor on Molecular Biochemistry
Discipline : Enzyme, Molecular Biology, Medical Biochemistry
Institution : Biochemistry Laboratory, Chemistry Department, Faculty of Sciences, Brawijaya University
E-mail : aulani@ub.ac.id
aulanibiochems@gmail.com
Research Interests : Molecular Enzymology, Biopeptide, Protein Complexes, Medical Devices, Autoimmunee Diseases and Immunocontraception
My research is in the area of Molecular Enzymology – i.e. the characterization of structure, function and mechanism of enzymes and biopeptide with important biological , biomedical and/or biotechnological roles.
I have particular interest on the structure, function, and regulation of any enzymes. We are particularly interested in the function, mechanism of action, regulation of biosynthesis autoantibody that induced by marker autoimmune diseases.
Our work in animal model for diabetic, hypercholesterolemia, Inflamatory Bowel Diseases, Rheumatoid arthritis, Fibrocis and cancer rats led to the discovery its molecular marker.
Developing and validating biomarkers for molecular autoimmune diagnostic for diabetic, autoimmune thyroiditis, thyroiditis (AITD), cancer and rheumatoid arthritis (RA). i.e. identification of biochemical, cellular, and molecular events that contribute to such autoimmune diseases and cancers.